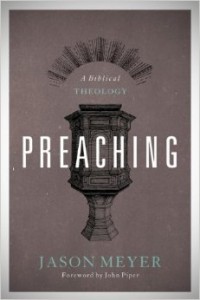 I had numerous reasons for wanting to write a book review on Preaching: A Biblical Theology by Jason C. Meyer. First, my new position as apprentice pastor has me preaching regularly and I need all the help I can get. Secondly, I thoroughly enjoy reading biblical theologies and this book fit the bill. Finally, and probably most significantly, I wanted to get a feel for what the guy replacing John Piper is like. Who is this Jason Meyer and what is he like? Reading a book on preacher by the guy following Piper in the pulpit must make, for good or ill, some kind of impression!
Jason Meyer has written a compelling and convincing treatise on expositional preaching in the form of this biblical theology. Meyer comes across as an individual who is both knowledgeable and passionate about preaching and conveys both those qualities in a comfortable manner.
Meyer's book is divided into five sections, all of which I found helpful. The five sections include five chapters giving an overview of what the Bible says about preaching, eleven chapters of biblical theology that support part one, three chapters on preaching in today's context, a couple chapters related to systematic theology, and a final chapter and appendices for concluding thoughts.
The first section explains and elaborates on Meyer
'
s definition of preaching which he provides: Preaching, or ministry of the word in Scripture, is "stewarding and heralding God's word in such a way that people encounter God through his word" (21). I enjoyed the author's unpacking of the three main concepts in this definition and found the discussion informative and inspiring.
The second section surveyed Bible with respect to stewardship and heralding of the word while looking for the effects of doing this poorly or well. There is some depth to this section as Meyer
'
s thoughts on preaching are discussed with respect to the details of the Bible. He considers the ministry of the word as it shifts through ten biblical paradigms starting the covenant of creation and ending with the pastor of the New Testament. Those who enjoy biblical theologies will find much to like in this second section.
The third section considers the "what," "how," and "why" of expositional preaching in our day. Meyer is an unabashed believer in expositional preaching and makes strong case for it which I found very motivating. The authors high view of Scripture was also glaringly evident in this section; an endearing quality to me and others who preach and take the call to preach seriously. Meyers shares ideas and insights that were new to me and that I will make use of in my preparation and preaching.
The fourth section investigates the connection between preaching and two significant systematic topics; scripture and sin. It follows these two chapters with a fair and grounded evaluation of topical preaching. Meyer provides a balanced and nuanced view of topical preaching suggesting it has its place in churches and delivers some benefits providing the priority is given to expository preaching. There are some valuable perspectives on topical preaching given with some warnings which clearly locates this type of preaching in the authors philosophy.
The book ends with some concluding thoughts and encouraging words as well as several appendices.
I found this book well worth the time invested in reading it and it has affected my opinions on preaching and it will affect the way I preach. It also gave me some insight into the heir of Piper's pulpit and I think that the congregation of Bethlehem Baptist Church are in good hands. I recommend this book.